There are some stories that we would rather choose to disbelieve. That is usually the prompting when we hear tales of ghost stories. But the truth is, that many of these mysterious ghost stories really happened. So, as we look for the spooky this Halloween, let's throw in a few real life ghost stories that really happened. In case you didn't really catch on to what we just said, these frightening tales of haunted houses and mysterious figures really happened.
Image credit: NPR
10. John McHales's Guardian Angel
Image credit: Wereblog
This is one of the few mysterious ghost stories that could have never come to life had a 4D scan not been conducted to see the face growing in the mother's womb. When the couple watched the video for the first time they could only see the baby's face. But, at home, they decided to watch the video for a second time and that's when it happened. A second face appeared next to their daughter's face. In mysterious ghost stories like these, we can only make assumptions. In this case, we choose to firmly believe that this was the baby's guardian angel. What do you think?
9. Ghost appearance at the Nottingham Galleries of Justice, Nottingham, UK
Image credit: BBC
The Nottingham Galleries of Justice was once a very notorious location. It served as a courthouse and a jail, a venue for very many frightening experiences for inmates. Today, it has become a haunted spot, ridden with real life ghost stories of sightings and noises heard within its brick walls. Whilst customers and staff at the building have reported many of these sightings, they have never been captured on camera. On March 11, this year, it all changed. Simon Brown, who happens to be a qualified parapsychologist, was at the Nottingham Galleries of Justice at about 4:29 PM. Whilst there he took about 100 photographs but only saw this image when he downloaded them. The figure here clearly appears to be walking through a modern brick wall which no human can do. Another interesting mystery is, how the image of the ghost appears to be partly transparent. The ghost is wearing what seems to be a 19th-century prison outfit, dragging it's leg as if in chains as was the custom at the time.
8. The Tower of London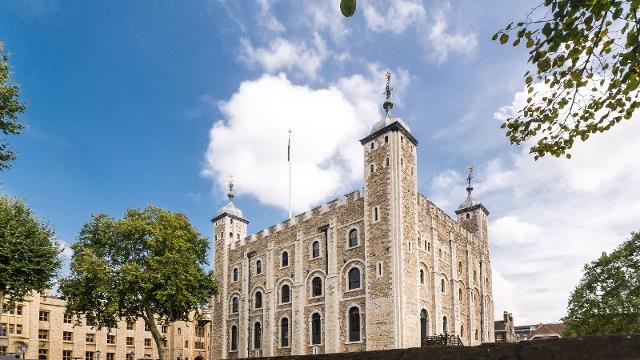 Image credit: Visit London
Where would this list of mysterious ghost stories be without the infamous Tower of London? Britain's castles are naturally a home to numerous ghost stories but the 900-year old tower is a hounded with real life ghost stories making it one of the most haunted locations in the world. One of the most sighted ghosts is Arabella Stuart, cousin to King James I. She erroneously married against the wishes of the King and had to face prison time in the Tower as punishment. According to Tower officials, she is still serving her time.
7. Farnsworth House, Gettysburg, Pennsylvania
Image credit: Haunted Houses
During the battle of Gettysburg, one of the bloodiest battles in the US civil war, Farnsworth house was used by confederate sharpshooters to shoot down union soldiers. It also served as a makeshift hospital for wounded soldiers. Today, it serves as a small bed and breakfast. Guests have reportedly seen ghosts of fallen soldiers within the walls of the house as well as Mary, a midwife who is reported to sit on their beds at night.
6. Dock Street Theater, Charleston, South Carolina
Image credit: SC Picture Project
This theater, which is located at the site of the first theater in America, is ridden with mysterious ghost stories. Apparently, an unknown prostitute, called "Nettie" by locals, haunts the theater. Nettie was struck by lightning in front of the theater and she died instantly. The ghost of the father of John Wilkes Booth – the man who killed President Abraham Lincoln – also haunts the theater.  The theater recently underwent a $15.8 million renovation.
5. LaLaurie Mansion, New Orleans
Image credit: Ghost City Tours
This house is notorious for real life ghost stories and sightings of mistreated slaves. The mansion housed a torture chamber in the attic owned by Madame LaLaurie which she used to torture slaves. It was only discovered during a fire outbreak in 1834 and an angry mob destroyed the house. Between 2007 and 2009, actor Nicholas Cage owned it.
4. Villisca Ax Murder House, Iowa
Image credit: Pinterest
The home of one of the worst murders in Iowa's history is said to be haunted by the ghost of the six family members who were killed on June 10, 1912. Till date, the house still remains uninhabited.
3. Joshua Ward House
Image credit: The paranormal guide
This house which sits on 148 Washington street, Salem is a brick mansion owned by merchant Joshua Ward. This was formerly the home of Sherrif George Corwin otherwise known as the "Strangler." George Corwin played a significant role in the 17th century Salem Witch Trials. There are real life ghost stories of sighting some of Corwin's victims within the walls of Joshua Ward's mansion.
2. Aokigahara Woods, Japan
Image credit: Word press
Let's take you to the foot of Mount Fuji, a notorious suicide spot for many Japanese. There are numerous real life ghost stories and videos of encounters with apparitions of deceased persons at the woods.
1. Damon's Ghost
Image credit: EsoterX
Last on our list of mysterious ghost stories takes us to Ancient Rome. According to Greek writer Plutarch, a bathhouse in Chaeronea is, till this day, haunted by the ghost of Damon. Damon rejected a Roman military commander and knowing he would be killed for his rejection, killed the commander and some of the soldiers around him. Members of the council sentenced Damon and his friends – who assisted him in the murder – to death. However, Damon's group killed the council members. The city later pardoned Damon but shortly afterward, had him killed at the local bathhouse. Plutarch reports that phantoms emerged in the place for a while afterward and the bathhouse had to be walled up. Till date, locals still speak of groans and alarming sights.
This is our list of mysterious, real life ghost stories to jumpstart your Halloween. If there are any tales you fill should be a part of this list we await your comments.